kangaroo island community education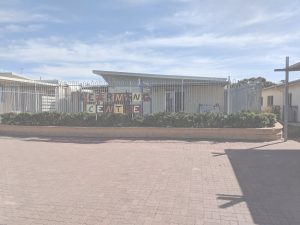 Students across KICE who require an adjusted curriculum are catered for through a range of programmes. Students with a verified disability receive additional funded support through DECD. Students are verified as having a disability under the DECD categories of Speech (SS), Speech and Language (SL), Physical (P), Autism Spectrum Disorder (ASD), Vision (V), Hearing (H), Intellectual (I) and Global Developmental Delay (GDD). This funding runs specific programmes, for example Minilit and Multilit intervention programmes; speech programmes, fine and gross motor programmes; Modified SACE for eligible students. Support for students with verified disabilities under the above categories may happen in the whole class setting, or in programmes that students access outside the classroom. Each support programme will meet individual needs. Support is provided by special education staff including teachers and SSOs (School Service Officers).
KICE BEHAVIOUR MANAGEMENT FOR STUDENTS AT RISK (R-12)
Students at risk are not exempt from normal school and classroom behaviour management procedures however, we must acknowledge students varying levels of ability to understand the relationship between rights and responsibilities.
Students with disabilities have behaviour measured in the context of their Negotiated Education Plan.
Any behaviour management strategies highlighted in the Negotiated Education Plan which differ from those described from the whole school are negotiated with parents, care givers, support services and relevant agencies. These strategies are clearly communicated so they can be consistently applied by staff managing the student.
Information from the student learning plan is shared with all teachers and support staff.
VISITING CONSULTANTS
External consultants visit Kangaroo Island to provide specialist support to parents, staff and students with disabilities. They work directly with students, and meet with staff and parents. Some are Education Department personnel from Student Support Services at Noarlunga, including Speech Pathologists, Educational Psychologists, and Hearing Impairment and Behaviour Management consultants. Support services also provide a Special Educator, an experienced person who takes a general role, helping in whichever way is most useful. Other support, according to individual needs, is accessed through external organisations. Private consultants are also sometimes employed.
NATIONALLY CONSISTENT COLLECTION OF DATA ON SCHOOL STUDENTS WITH DISABILITY
We have commenced the annual nationally consistent collection of data on school students with disability ('the Collection').
This will involve the collection of: the number of students receiving adjustments to enable them to participate in education on the same basis as other students; the level of adjustment provided to students; and where known, the student's type of disability.
Under the Collection model the definition of disability is broad and includes learning difficulties, health and mental health conditions.
If your child is identified for inclusion in the Collection, the required information about your child will be included in this year's data collection.
If you have any questions about the data collection, please contact your campus.
Further information about the Collection can be found at: http://www.education.gov.au/nationally-consistent-collection-data-school-students-disability
Students at Risk Resources
SERU (Special Education Resources Unit)
Contact: 82352871
SPELD SA (Dyslexia and Specific Learning Difficulties Association of SA)
Contact: 84311655