parndana Area School history
With the development of the War Soldiers Settlers Scheme families began to be housed in the 'Camp'.
Initially children, both primary and secondary were taken by Lands Department vehicles to the bottom of the Kohinoor where they met the school bus to attend Kingscote School .
Numbers grew and on 12th September 1950, Parndana Area School had its humble beginnings with an enrolment of 16 primary students (secondary students were still taken to Kingscote). As families moved from the 'Camp' onto their blocks there arose the need to get these children to school. The Headmaster, being the only teacher, drove a school bus from the existing township to the camp school. With young families settling into the district school enrolments were set to explode. In February 1951, 23 students and by May 32 students were enrolled.
In 1952 with an enrolment of 42 the school moved from an old army hut into a new 2 room school. 1953 saw an added room and an extra teacher. In 1954 enrolments grew so fast that 2 classes had to be housed in an armco shed.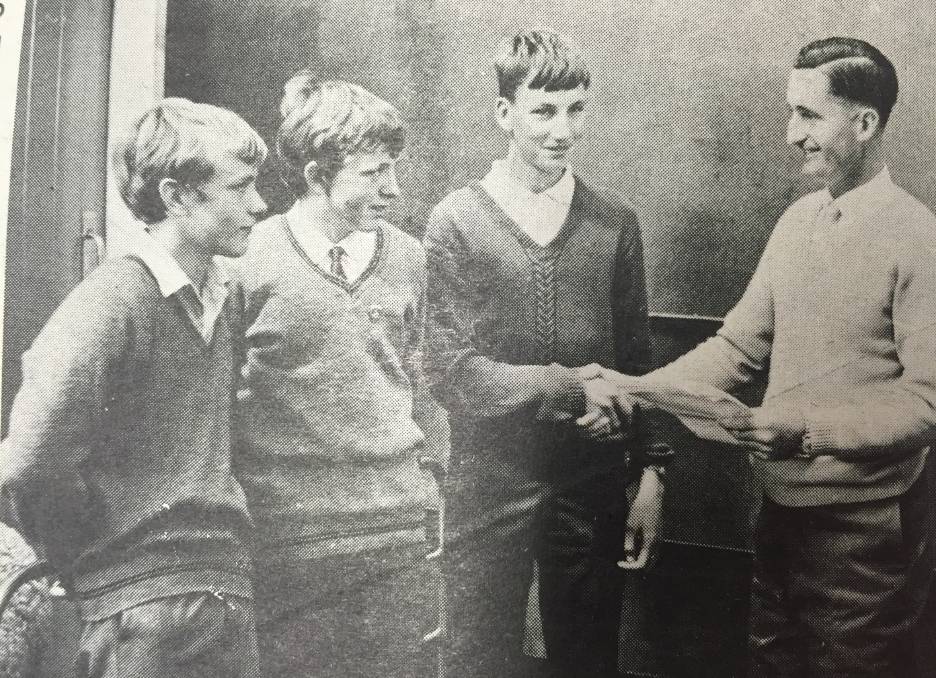 The wheels began to turn for a new site for a new school between 1954 and 1956 when enrolments rose from 130 to 230 students. In June 1958 the present site of Parndana Area School was decided upon. On October 1st 1958, 10 men commenced construction of the present 'new' school in the township. The new school opened in February 1959 with 10 classrooms, a science lab, library, assembly hall, tuckshop, administration wing, art room, 240volt power plant and a 500,000 gallon dam! By this time enrolments were 346 students.
In 1960 a year 11 class was added together with a newly establish Agricultural Centre. In 1965 enrolments were 407 students, and Parndana Area School was ranked as one of the largest area schools in South Australia . The period 1970-1974 saw the appointment of a Secretary and the first of the Teacher Aide appointments. In 1972 enrolments dropped to 256 having reached its peak of 419 students in 1962. In 1989 Year 12 studies were introduced to the school. Eighteen students completed the year out of 19 who began the SSABSA course
During the period 1975 to 1979 the first outdoor education teacher was appointed. Plans for the upgrading of Karatta as an Outdoor Education Centre were put in motion.
The Parndana Area School Pre-School was established in February 1978 at the school. Previously it had been held at other venues. A triple building was transported from Kingscote. In 1976 work was completed on the present Resource Centre. Funds began to be raised for the swimming pool. Kangaroo Island Schools became eligible for Country Area Schools Program (CAP) funding, and a shearing/wool classers camp was established.
During the last 10 years dramatic changes have occurred in the nature of resources, driven by technological change – calculators, videos, TV cameras, computers, internal/external communication system which included the hands free phone, the DUCT system, dramatic grounds development, revamping and internal relocation of classes and areas.
In 2002an Education Review was initialized with the aim of developing a model for the delivery of Preschool to Year 12 curriculum across Kangaroo Island . Following extensive consultation of Kangaroo Island school communities and exploration of other models the decision was taken to establishing one education system for the Island .
In 2005 the new entity of Kangaroo Island Community Education comprised of three campuses (Kingscote, Parndana and Penneshaw) plus two Preschool sites was established. Thus a new and exciting era for the students (current and future) has commenced.
We have a school and a tradition to be proud of. Parndana Area School truly stands up to its motto:
"ad meliorem vitam" – Towards a better life.