kangaroo island community education
KICE teachers are using the Australian Curriculum to plan, assess and report on student achievement across all subject areas. This is an exciting time because the Australian Curriculum gives teachers and students more consistent standards in all schools nationwide. The Australian Curriculum is structured into core learning areas, general capabilities and cross-curriculum priorities that aim to develop our students into 21st Century thinkers and learners.
You can support your child's education by familiarising yourself with the Australian Curriculum at www.australiancurriculum.edu.au to understand what your child is learning at each stage of their schooling. Check out any curriculum news, information and updates in the 'Curriculum Corner' of each KICE Newsletter.
Learning Potential App for Parents
A new mobile app, enabling parents to become more involved in their child's education, is now available to download free on Apple and Android devices.
The app has been developed by the Australian Government's Department of Education, in consultation with ACARA and offers access to articles and informative videos, as well as practical tips and suggestions for parents of children from pre-primary to high school.
The app has tips and inspiring ways to get involved in your child's learning. Learning activities can fit into your daily routine, including driving to school or getting ready for dinner.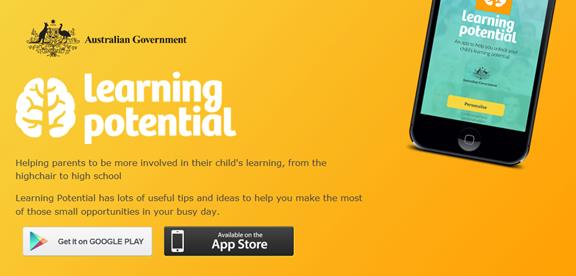 Check out the Learning Potential website to find out more