HOG BAY - penneshaw school history
The first Hog Bay school opened in 1869.  It was a stone building that needed repairing and upgrading. There were problems over a land grant for the school but it was built before this was sorted out.
Francis, the wife of a Mr Sealy, was a teacher at Hog Bay in 1873. This was a surprise because supposedly women were not permitted to continue teaching after they married. However, the school was not officially recognised until the early 1880s, which is probably how this occurred. Probably, for this reason too she was not recorded as an official teacher. 
There is no date for when this school closed, but it was probably around the 1890s.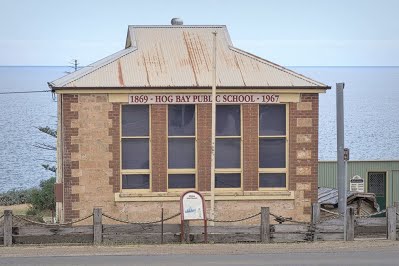 The second school opened in 1897. This school was a tin building on the seaward side of the Hog Bay road going in to Penneshaw. The school was in the old township, as all the other schools have been. This school closed in 1922.
The third school opened in the same year, 1922. In 1929 the school was named Penneshaw School instead of Hog Bay School. This school was stone and is now being used as a Maritime and Folk Museum, where there is an "Old School Room" display. The school closed in 1967.
The fourth school opened in 1960 and was used with the present folk museum. It was a Primary R-7 school. The museum was used for the older children and for exams. When the museum building closed in 1962 the remaining school became a Special Rural School and in 1987 became known as Penneshaw Area School. In 2005 Penneshaw Area School became part of Kangaroo Island Community Education (KICE), a combination of Penneshaw, Parndana and Kingscote Area Schools plus two preschools.
History compiled by L. Howard 1991.